Published: 12/01/2020
This is probably the most consistently blogged ever in my life. Well, my friends on the internet, this is my public journal.
Today is a Tuesday. Penn was right, day 4 sucks. It Fing blows. Sure I had a relaxing day of not working, but oh man I was so tired of potatoes. I was ready to punch somebody in the face, throw in the towl and eat. I was craving something so temptatious, so desirable you could not resist if I told you…. A bowl of steamed white rice, hot, fresh, with a side of steamed, crispy broccoli and some soy sauce dressed all over it. Seriously, it wasn't fries or a cheese burger, but a grain and veggies. WHAT THE HELL? No steak? Where's the steak craving? Or the cookies? or the ice cream?
I do admit, today, I had the STRONGEST urges for hot chocolate, rich and dark. It was cold outside, but I caved into my weakness and got a blonde decaf Americano at Starbucks today. It was rich, inviting and exotic. Haha. But I did something unique, possibly diet busting today.
Game changing potatoes
I love Gold Potatoes. I have long told people that Yukon Gold Potatoes are the steak of the potato world. I stand by that decision and statement right now. If you love a Ribeye or New York Strip, skip the russet, the russet is a stupid potato anyways, and go for the gold star, go for a Yukon Gold. Steamed, Boiled, Mashed, Baked; butter, no butter, nude and all natural or laden with delicious artery clogging goodness, Yukons will rock your world.
Yukons, meet a Mandoline, a Julienne with your knife or a cheese grater will change your life. Today, I made potatoes, cripsy, decadent potatoes. No oil, a pinch of salt, no butter, no fat and no sugar; bake at 350 for an hour after you julienne, madonline or grate it into fries, wedges, chips or hash browns. This will rock your potato diet. It will make you so full. I joyfully ate 6 potatoes this way for lunch. It was a delightful journey and experience.
In addition, one other slight change, I added lemon to my water. Just a wedge. But that helps me drink more and eat lots of ice (I love chewing on ice, the joyous feel of a slighty warm ice cube crunching down in your mouth…).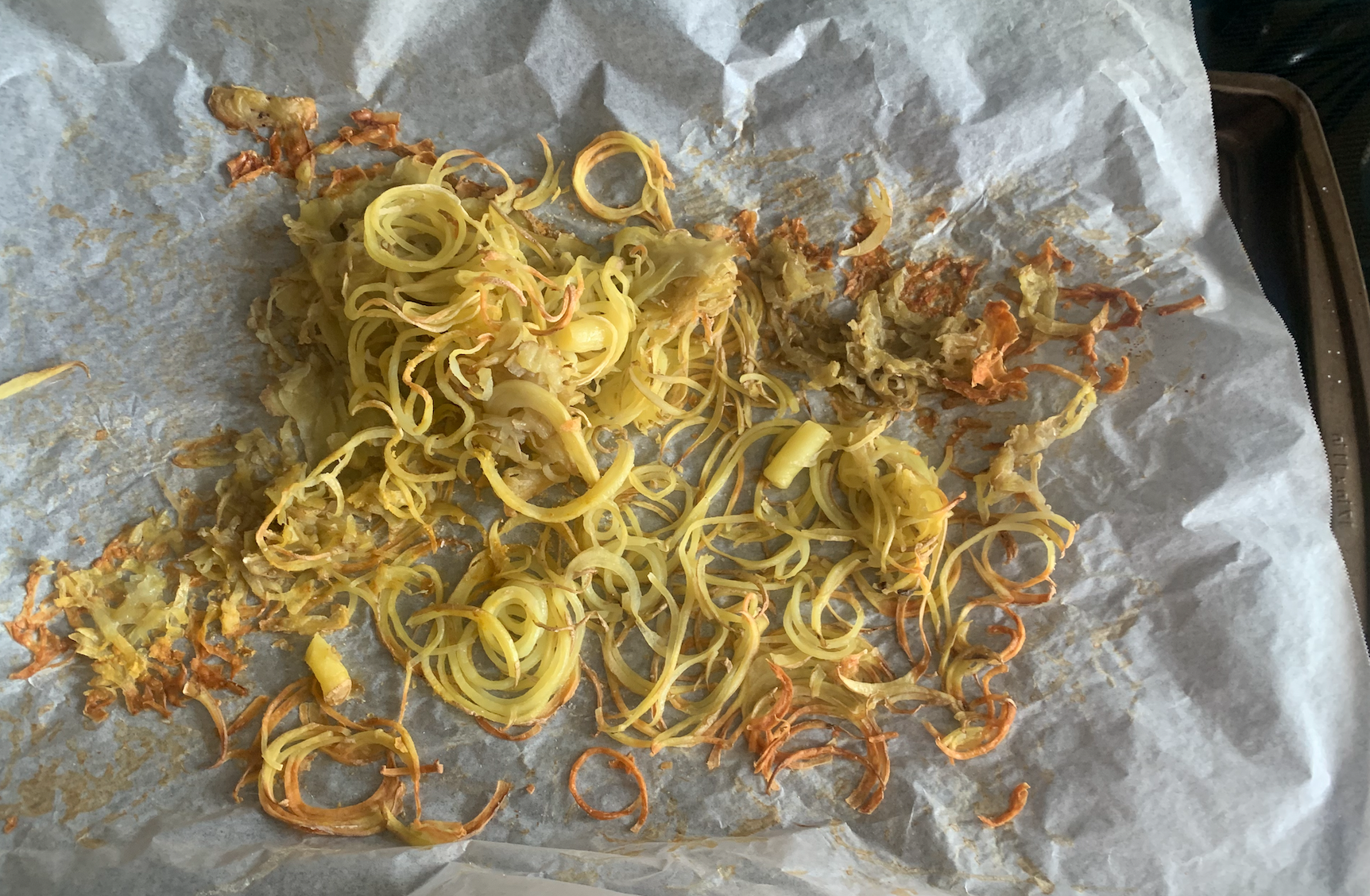 Setting potatoes aside, todays stats
Today, I weighted in and I lost 1 pound! I'm offically down 14 pounds since buying my Withings Scale, which is 14% of my 100 pound goal. This is great. I'm making progress, not bad for only a week and a half of effort.
How did I feel? Yesterday, I felt terrible. I didn't eat enough and drank way to much water. I was hating potatoes. Today, I feel so much better. I got so many more calories into my body and didn't over drink… See you tomorrow.